Welcome to Island Stage
ISLAND STAGE'S PRODUCTION OF STEEL MAGNOLIAS FEATURED IN SEVEN DAYS!
PLEASE CLICK HERE TO READ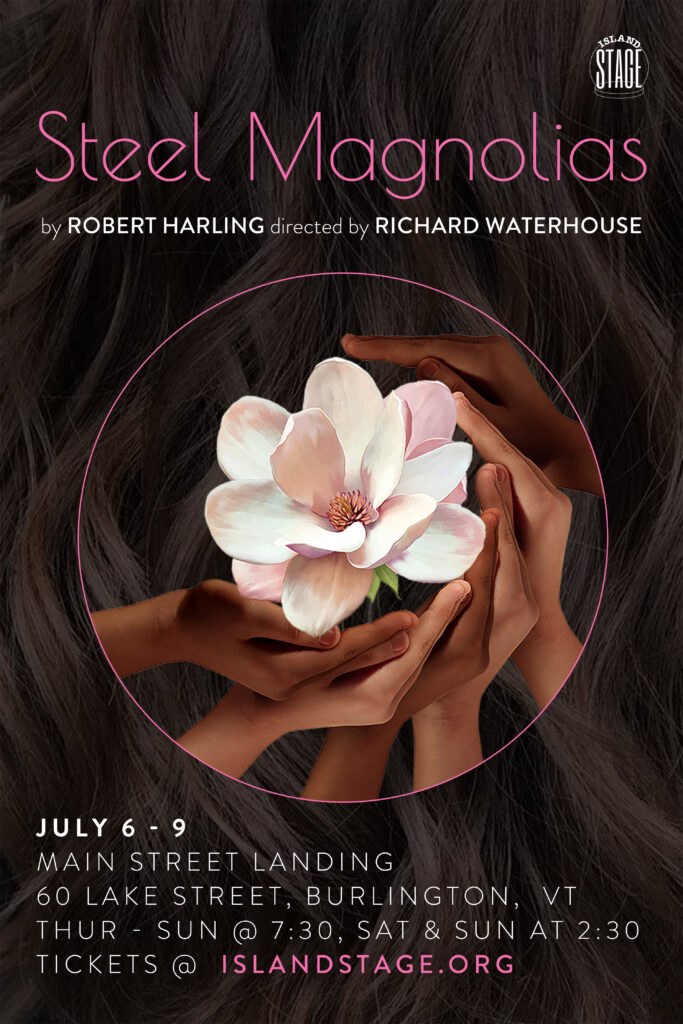 Tickets Are Now On Sale For STEEL MAGNOLIAS
STEEL MAGNOLIAS
$15.00 – $35.00
July 6, 2023 – July 9, 2023
Produced by Island Stage @ Main Street Landing
60 Lake Street, Burlington, VT, United States
CLICK TO PURCHASE TICKETS: https://theaterengine.com/productions/2300
BEHIND THE SCENES
Robert Harling (Playwright), Richard Waterhouse (Director), Jodi Zemski (Producer), Craig Zemski (Lighting & Sound Design),
Natasha Mieszkowski (Assoc. Producer), Nicole Gardner (Hair), & Bill Champange (Set Build)
STARRING
Maryanna First, Rachel Feldman, Mary Scripps, Rachel Natvig, Kristina Dege, & Noni Stuart
ABOUT THE SHOW
Join us in Truvy's small-town Louisiana beauty salon where all the ladies who are "anybody" come to have their
hair done, and where wisecracks and advice are dispensed as freely as shampoo. Steel Magnolias revolves around
an assortment of dishy southern ladies in a small-town beauty parlor. The play is alternately hilarious
and touching—and, in the end, deeply revealing of the strength and purposefulness, which underlies the
antic banter of its characters. This much loved modern classic, directed by Richard Waterhouse, is sure
to move you to laughter and tears. You won't want to miss it!
CLICK TO PURCHASE TICKETS: https://theaterengine.com/productions/2300
Our mission is to create a theater space and community center in the Champlain Islands of Vermont. Our goal is to build a vibrant theater community while partnering with local businesses, schools and individuals who share a love for the performing arts and the Islands.
Island Stage, a registered 501(c)(3) organization, is a non-profit organization supporting theater on the Lake Champlain Islands, Vermont