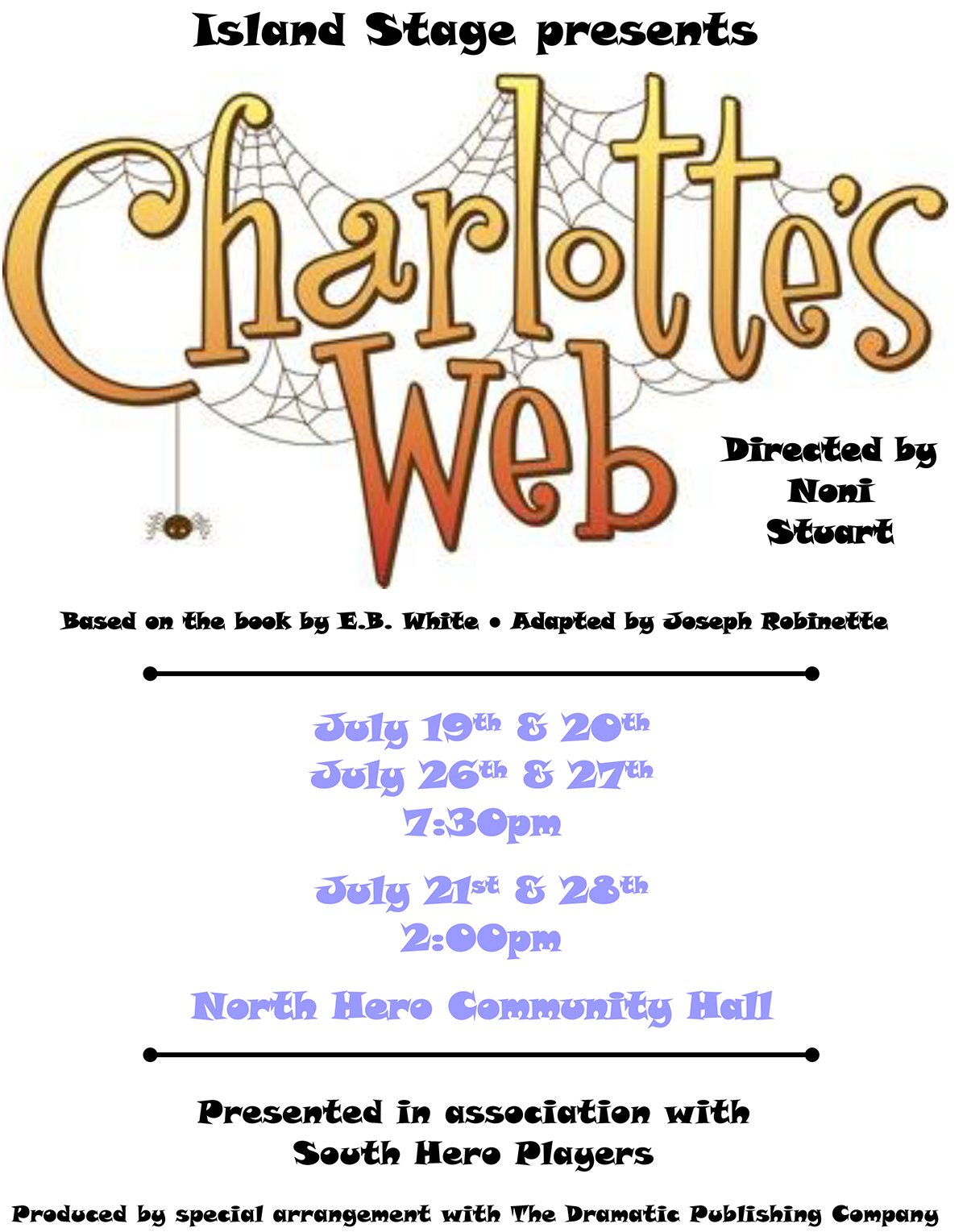 North Hero Community Hall 
Route 2
North Hero, VT
CHARLOTTE'S WEB IS NOT JUST FOR KIDS!
Based on the classic tale by E.B White and adapted for theater by Joseph Robinette, "Charlotte's Web" tells the story about how the dire fate of a runt pig named "'Wilbur", is miraculously altered by the efforts of an altruistic spider named "Charlotte".
The story touches on some important contemporary yet timeless themes: How we are different yet connected at the core by our humanity. How we can reach across the divide of "difference' to sustain life and thereby safeguard future generations. And ultimately, this is about the profound and transformative nature of friendship. For example, even a gluttonous rat named "Templeton" rises above his own self-serving nature to help save "Wilbur", the pig!
Our large and talented cast is comprised of very experienced actors, singers and dancers, as well as some for whom this will be a debut performance. Most of our youngest performers are from the Islands, but we also have adults who hail from Montpelier, South Burlington and Milton! Some are experienced actors/dancers/singers who have had a long history performing on the Islands and elsewhere. For a few it will be their swan song, and for others, a return to the stage after a long absence. There will even be some surprise cameo appearances from well-known personalities in the community!
We hope to delight, move, surprise, and WOW you.
BE CAUGHT IN A WEB OF ENCHANTMENT!
CAST
WILBUR: Mars Turbide
CHARLOTTE: Jaylin Rae
FERN: Elsa Althoff
TEMPLETON: John Larabee
GOOSE: Maureen Seivwright
GANDER: George Seivwright
SHEEP: Kerry Cameron
LAMB: Lila Hanfield
MARTHA ARABLE: Wendy Duval & Noni Stuart (Sat. 7/27)
JOHN ARABLE: Dave Belvedere
AVERY: Felix Patrie
HOMER ZUCHERMAN: Lee Kimball
EDITH ZUCKERMAN: Laura Limoge
LURVY: Shannon Lowe
CHORUS MEMBER & FAIRGOER #1: Gwyneth Hood
CHORUS MEMBER, FAIRGOER #2 & PHOTOGRAPHER: Katie St.Raymond
CHORUS MEMBER, FAIRGOER #3 & REPORTER: Jim Wood
FAIR ANNOUNCER & VOICE ON LOUDSPEAKER: Bill Tourville
UNCLE: Walter Chesnut
BABY SPIDERS: Katie St. Raymond, Gyneth Hood & Jill Holland
FAIR JUDGES: Surprise cameos appearances!
VOCALS: Jaylin Rae, Walter Chesnut, Dave Belvedere, Bill Tourville and Animals.
DANCERS: Sunny Wickenden (Aerial Dance) Elsa Althoff & Felix Patrie (Streamer Dance), Kerry Cameron & Bill Tourville (Waltz) and Animals.
PRODUCTION
DIRECTOR: Noni Stuart
ASSISTANT DIRECTOR: Shannon Lowe
PRODUCER/ MARKETING: Noni Stuart, Bill Champagne
STAGE MANAGER: Jill Holland
SET DESIGN & PAINTING: Lindsey Baldwin
WEB DESIGN and BUILD: Noni Stuart
SET BUILD: Larry Smith, Guy Goulet & Bill Champagne
MUSIC DIRECTOR: Walter Chesnut
VOCAL DIRECTOR: D.J. Tetreault
MUSICAL ARRANGEMENT: Margaux Simmons
MUSIC TECHNICIAN: Jet Jaguar (Idle Productions)
DANCE CHOREOGRAPHY: Liza Matton Mercy, Jill Holland & Kerry Cameron
LIGHTING & SOUND DESIGN: Elliot Stevenson
COSTUME DESIGN: Kim Julow
COSTUME SEWERS: Kim Julow, KC Barton, Naomi King, Cindy Spence
POSTER, POSTCARD, PROGRAM COVER & BANNER DESIGN: Wendy Duval
PROGRAM LAYOUT: Walter Chesnut