Our Mission
It is Island Stage's mission to provide quality performing arts opportunities in the Lake Champlain Islands by offering a year-round theater presence in the community. We seek to involve the whole community by offering shows annually in a variety of venues throughout the Islands. Furthermore, we seek to educate and engage community members by offering acting classes for children and adults, as well as play reading groups. It is our mission to help vitalize the local economy and other arts organizations by partnering with local businesses and to draw audiences from a wide range of Vermont counties as well as from NY and Quebec.
---
Our Board
Noni Stuart (President) 

Nonis' passion for theater first became evident in childhood when she created and performed plays for family and friends. In elementary school, she took acting lessons and remembers her teacher telling her mother, "That girl belongs on stage". Age 12, she was singled out by a talent scout to host a TV show called Tween Set in Montreal, her home town. But pre-adolescent shyness had taken its' hold by then and acting was set aside for many years until the millennium when the stress of dealing with a life crisis inspired her to audition for a show in Charlotte VT. She was cast as one of the leads, began studying acting for film with Jock Macdonald, and has been taking classes and performing on stage and in film consistently ever since.
She has studied with acting coaches from L.A, VT and Canada and has pursued her career professionally, with an agent in Montreal. She has directed, written a screen play, taught as well as acted. Favorite roles include Blanche, in A Streetcar Named Desire, Ruth in Blythe Spirit, Natalia in A Month In The Country, Kimberly in Kimberly Akimbo and most recently, Miss Connor in Women Without Men.
Noni is particularly excited about Island Stage's mission to create a theater space and community center in the Islands. She plans to work hard with her fellow board members to build a vibrant theater community partnering with local businesses, schools and individuals who share a love for the performing arts.
Paula Bradley (Vice president)
picture and bio to come!
Kim T. Julow (Treasurer)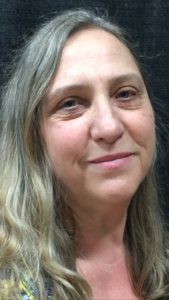 Kim started her theater experience backstage more than 30 years ago when she was asked to assist with props for a local theater production of George S. Kaufman and Moss Hart's You Can' t Take It With You. Costuming, set construction, and more prop work followed with never a thought to actually stepping on stage. However, necessity forced her to accept a small role as a Cockney maid, and from her first bellow of "tea !" on stage she was hooked. Roles, large and small, followed for the next 15 years but the ones she found most satisfying dealt with strong women rising from adversity and leaning on each other for support.
Kim found her next big challenge and passion when she switched to directing some years ago. Taking a writer's vision from page to stage and watching the characters come alive under her direction was nothing short of magical. While she still acts from time to time finding the next story to bring to audiences that will move them has become her passion.
Besides her theater work Kim has been a member of the South Hero Volunteer Fire Department for more than 20 years and currently serves as Chief. She has been a proud Island resident for more than 40 years and feels this community deserves the opportunity for a great theater experience, a goal that Island Stage, Inc. is building towards.
D.B. Griffin (Secretary)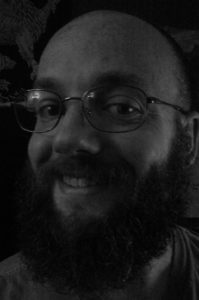 D.B. Griffin (or "Griff") began his Theater experience as a child with the Slayton House Camp of the Arts Theater Camp in Columbia, Maryland.  His very first production was a streamlined version of Cats. Bitten by the Theater bug, his life journey revolving around the stage began. Throughout his childhood he continued participating in the dramatic arts, and eventually enrolled in the University of Vermont's Theatre Program (with a brief interlude at Howard Community College in Maryland).
There, he studied Acting, Lighting, Set Design, Costuming, Musical Theater, and Stage Combat. He served in all these capacities for Toys Take Over Christmas, Urine Town, You Can't Take It With You, Arms and the Man, Arabian Nights, The Heidi Chronicles, and Little Women. In his time at HCC he was an actor for A Funny Thing Happened On the Way To the Forum.
Independently during this time, Griff was a member of The University Players at UVM where he was an actor for The Weir and The Halloween Cabaret, a writer for their Red Eye Festival, and a Director/Actor for Romeo and Juliet.
Notable Post Collegiate work includes Stage Managing for the Vermont Renaissance Festival during its inaugural Season.
Having recently moved to Grand Isle, Griff is thrilled to be a part of Island Stage, and looking forward to many fruitful productions to come.